Morchang &
Morsing
From India
Morchang (left)
US$ 20.00 ea.
Morsing (right)
US$ 25.00 ea.
Clover Head Steel Morsing by Inok (Bottom)
US$ 25.00 ea.
UNTUNED
Traditional trumps from India - Hand forged and crafted - Untuned, each have a looped trigger for fast in-and-out playing. Great for percussive sounds, the reeds are quite stiff by our ears.
The Morchang (left in image) are from Northwestern India, Rajasthan, to be exact. Current stock of Morchangs vary in size and pitch and finish.
Morsing (or Moorsing or Mursing, right in image) are from South India, and are classical Carnatic instruments. (Carnatic music is the classical music system of the south.)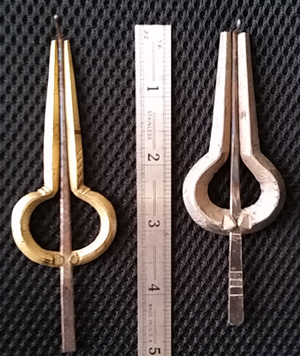 Finish and decoration may vary
Listen to a sound sample (about 40secs each)
Morsing
Windows Media Audio
MP3 Audio
Morchang
Windows Media Audio
MP3 Audio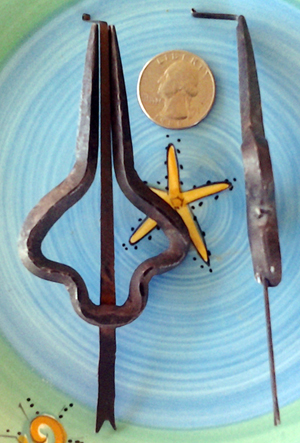 Clover Head Steel Morsing by Inok
No sound sample yet